Gallery 5
Ancestors on demand – early 20th century images by the Chicago Portrait Company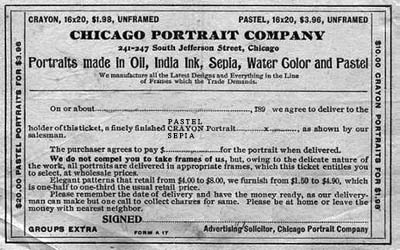 Chicago Portrait Company images were made from 1893 through at least 1940. Typically, rural salesmen (drummers) fanned out across the countryside to solicit old photographs of revered ancestors. These were to be made into impressive portraits suitable for framing. Portraits were available in pastel, crayon, or sepia and were executed on a heavy, curved card stock and offered at prices that were difficult to turn down. In the 1890s, pastel portraits were available for $3 and crayon renditions were under $2.
In fact, these impressive-looking portraits actually were a bargain, because the salesmen knew they could play on their emotional appeal to make the profits elsewhere. The real money was in the frames. Because the portraits were made on curved cardboard the recipients could clearly see when they arrived that they would not be suitable for normal flat framing. What's more, the anticipated portraits were always delivered in beautiful "tiger stripe wood" frames with curved "bubble" glass. These had to be turned down at delivery. Given the choice between these beautiful frames versus no frames at all, few people could resist paying quite a bit more for the matching frames. People were drawn in by the emotional appeal of the inexpensive portraits, but then the frames looked impressive… The "wood" frames looked (and still look) expensive but they are painted plaster and the bubble glass fronts were mass produced. The sale price of the frames ($1.50 to $4.90 in the 1890s; $5 to $11 in the 1920s) left subscribers paying double or triple the expenditure they had anticipated. Nevertheless, from the perspective of descendants a century later, we're happy that our ancestors came up with the extra money.
In addition to the enduring legacy of having created thousands of treasured portraits throughout the country, the Chicago Portrait Company became enshrined in tax law history when they were sued in North Carolina for their practice of not paying taxes on their sales in other states.
Below are some of the portrait company pictures of Esarey ancestors and the photos they were apparently drawn from. A chart at the bottom shows how these people are all tied together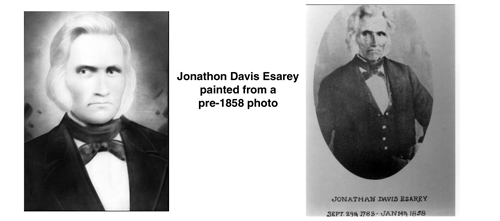 Judging by the 1924 patent date on the back of the frame, the pre-1858 photo of Jonathon Davis Esarey was taken at least 66 years before the portrait was made.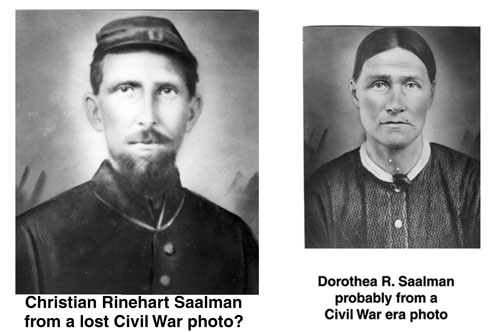 I have not yet ever seen the photos from which the portraits of Christian Rinehart Saalman and his wife Dorothea were taken. Note the matched streaking in the background. See more images and discussion of Dorothea in Gallery 4.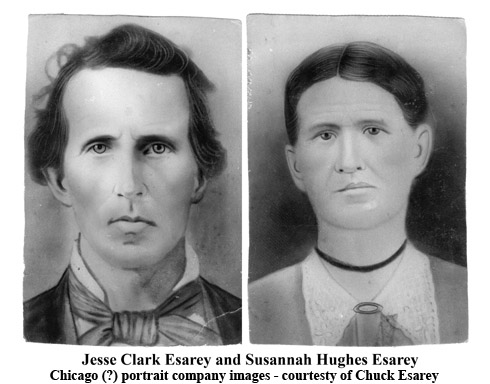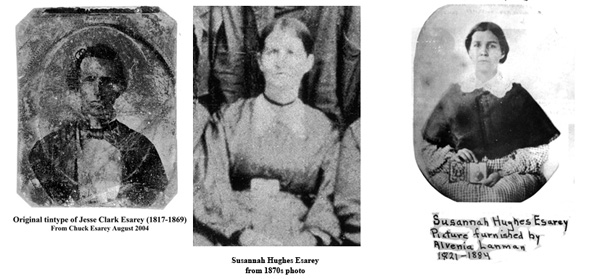 The portrait company likenesses of Jesse Clark and Susannah Hughes Esarey were drawn from photos made at different times. The tintype image of Jesse Clark Esarey is the source of this portrait, while Susannah's portrait was made from a photo taken several years after Jesse's death. The portrait companies main period of business started several decades after Jesse Clark Esarey's death.