Gallery 4
Dorothea Ruhling Saalman Esarey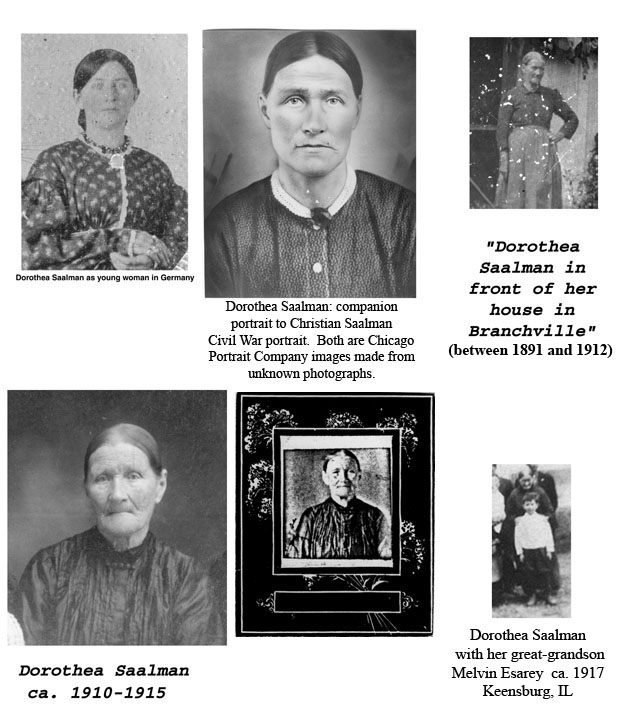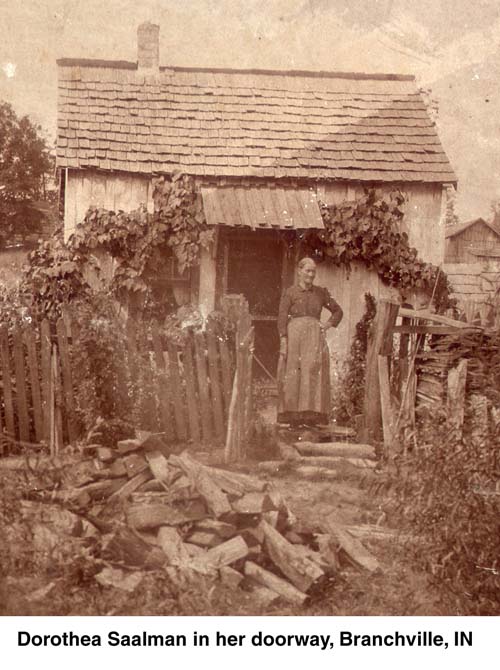 This extraordinary photo was scanned at an Esarey Family Reunion in 2004. It was probably taken sometime after Dorothea's third husband died in 1891 and before March 1912, when she sold her house. Note the mention of her garden and her problems with her fence in the April 1911 letter below.
Dorothea (b. 1823) came to the US from Germany in the 1850s with her husband Christian Saalman and they eventually settled in Branchville. Her children married into local families and the Saalmans are related to Esareys and their kin in a number of ways. Christian died in the Civil War, specifically at the dreaded Andersonville Prison in Georgia (read Christian's story Link 1 and Link 2).
Dorothea later remarried and quickly divorced, and then in 1885 married the elder Hiram Marcus Esarey (1813-1891) after his first wife (Sophia Walker) died. Interestingly, Dorothea's daughter Anna had not long before this married the younger Hiram Marcus Esarey (1847-1929) , who was a nephew to his namesake. In 1909, in a letter written in her native German, she unsuccessfully petitioned President Roosevelt trying to get her civil war widow's pension reinstated.
See Todd Saalman's web pages for many more details on Christian, Dorothea, and their descendants.
In 1912 Dorothea began living with her children, Columbus in Branchville, Herminia Saalman Vaupel in Burnt Prairie, Illinois (near Fairfield) and Anna Saalman Esarey in Keensburg (near Mt. Carmel). The series of letters below reflect that period and give some of the flavor of Dorothea's existence at this time. Dorothea died in 1920 and is buried in Walker Cemetery at Branchville.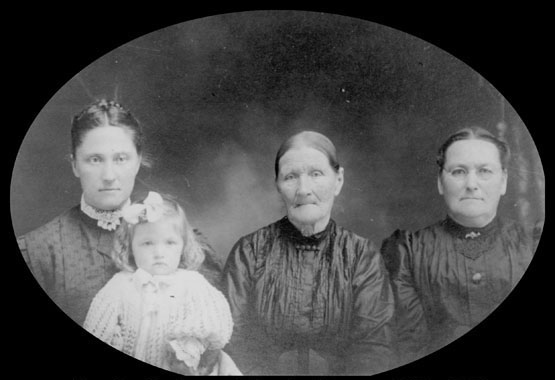 Four generations? Taken sometime between 1910 – 1920. Dorothea Saalman (center). It is assumed that her daughter Herminia Saalman Vaupel is on the right. The woman on the left may be Herminia's daughter-in-law Ada Emily Pollard Vaulpel and the child may be Hermiena Dorothea Vaupel (1910-1910) or one of her younger sisters (Rowena A. Vaupel [1913- ?] or Mayda P. Vaupel [1915 – ?]).The Vaupels lived in Burnt Prairie, IL.
Photo found in papers of Archie Esarey, Keensburg, IL, son of Hiram Marcus Esarey and Anna A. Saalman (Herminia Saalman's sister)..
1910 – 1913 Letters from Dorothea Saalman to daughter Anna Saalman Esarey, Keensburg, Illinois
(all from the papers of Archie Esarey, son of Hiram Marcus Esarey and Anna Saalman).
Branchville, Sept. 30, 1910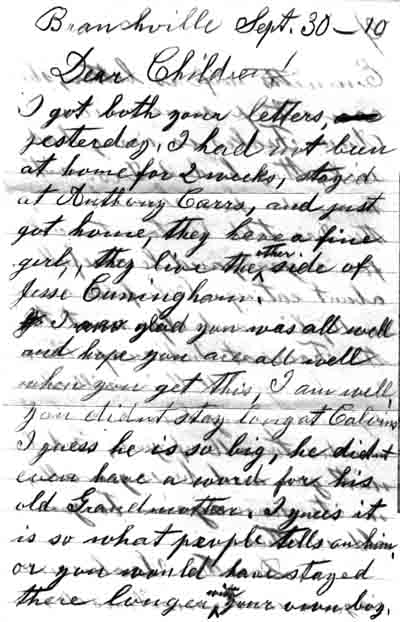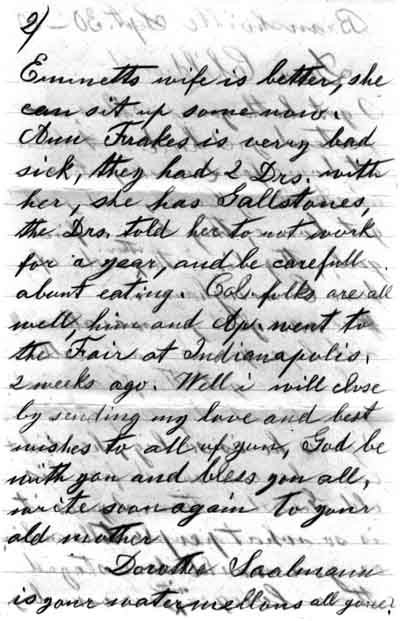 Branchville, April 10, 1911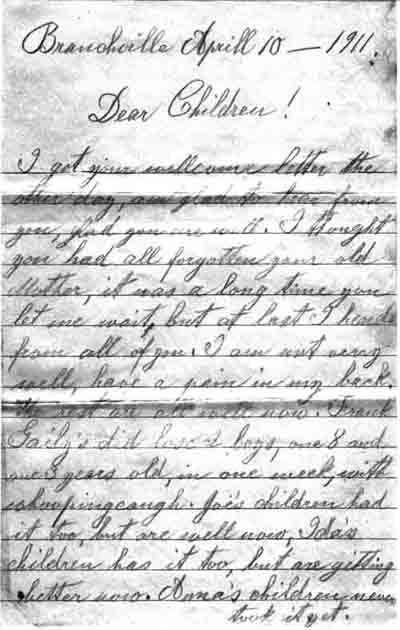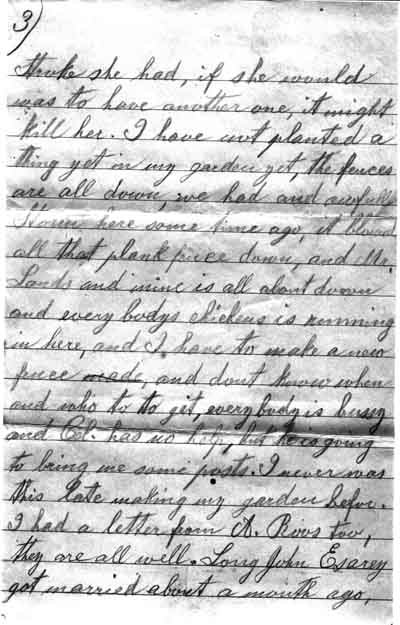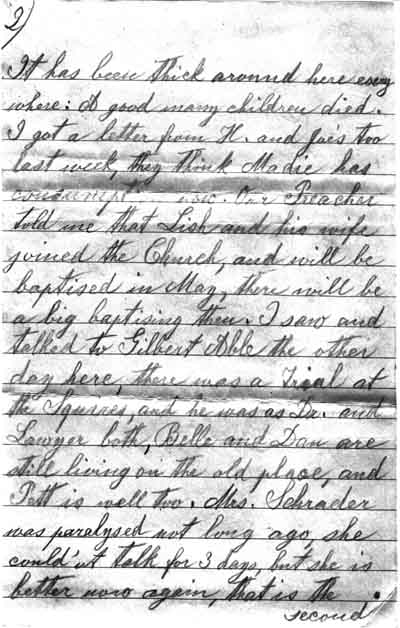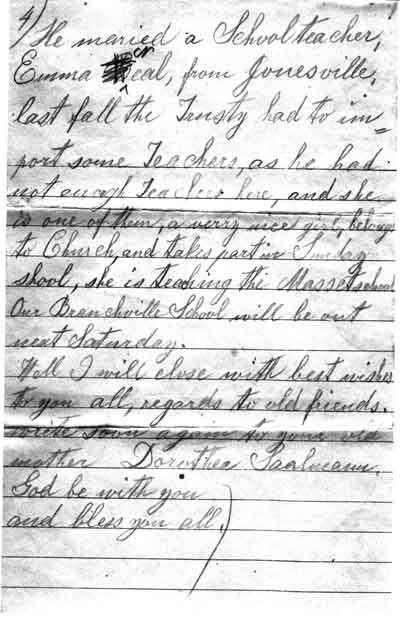 Branchville, Aug. 11, 1911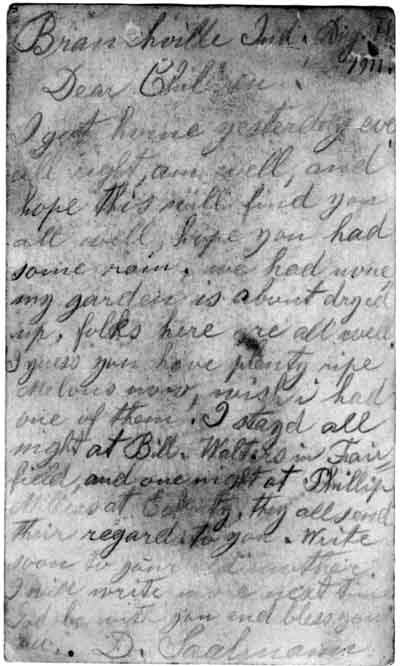 Branchville, March 20 (19)12, (no image)
Dear Children, I got your wellcome letter some time ago, was glad to hear from you, and hope this will find you all well. I am about well again, thank the Lord. Col. {her son Columbus Saalman] folk are all well. I see Ruthie every day hereat School. Col. had a house raising saturday, he is building by the Kissling spring for a workhand, one of Jim R. Howe's {Columbus' in-laws] boys is going to live in it, so he can have a hand all the time. We are having awfull bad weather and the Roads are awfull. App. can hardly get his Goods out from Eckerty. Clark is better also, is able to set some, some of them telephone every day. Well, I don't know any News, and I have not seen a person pass to day, and Lands are not at home, and I feel lonesome. I had Bide to stay with me last night. Well I have sold nearly everything in the house and will stay here next week yet, then break up and go to Col. awhile, and visit around awhile before I come to Ill. Love and best wishes to all of you. Write soon again to your old Mother. D. Saalman (God be with you and bless you all.)
Branchville, March 31, 1912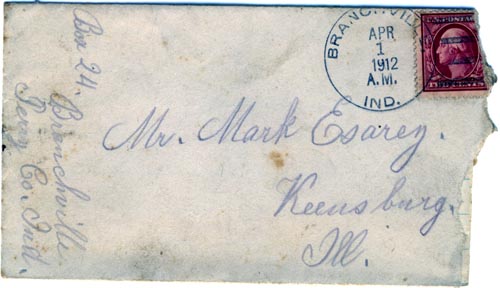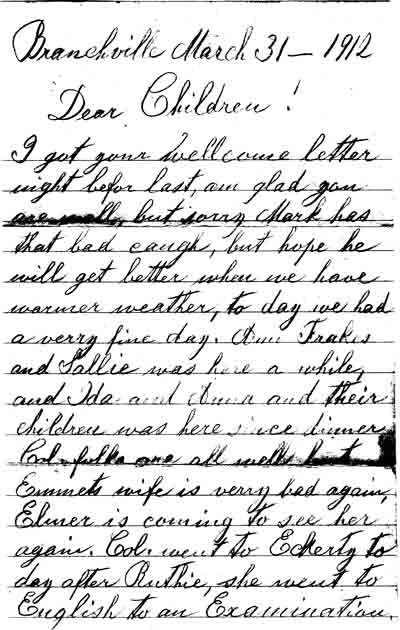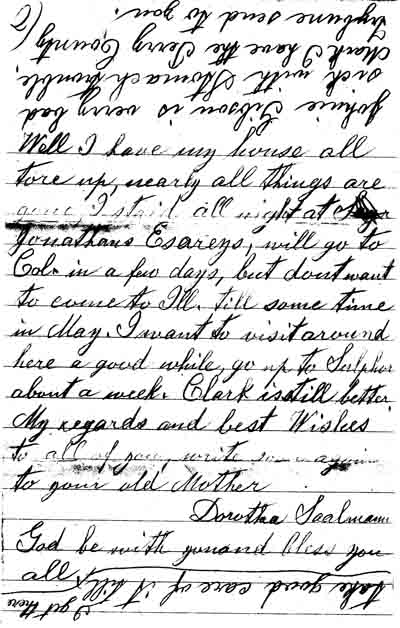 Branchville, May 26, 1912 (image)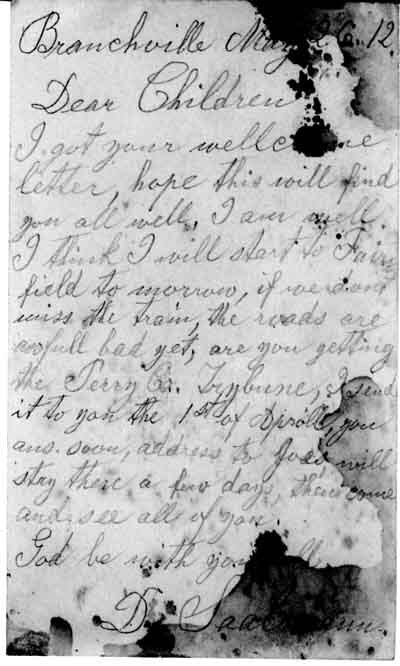 Burnt Prairie, IL, June 11, 1912
Burnt Prairie, IL, July 24, 1912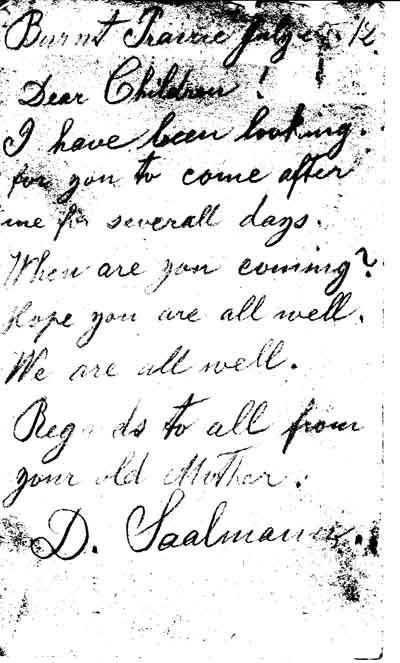 Fairfield, IL, Sept. 16,1912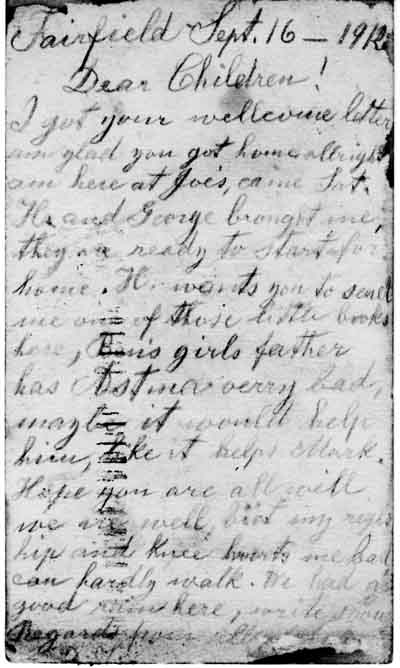 Burnt Prairie, IL, April 13, 1913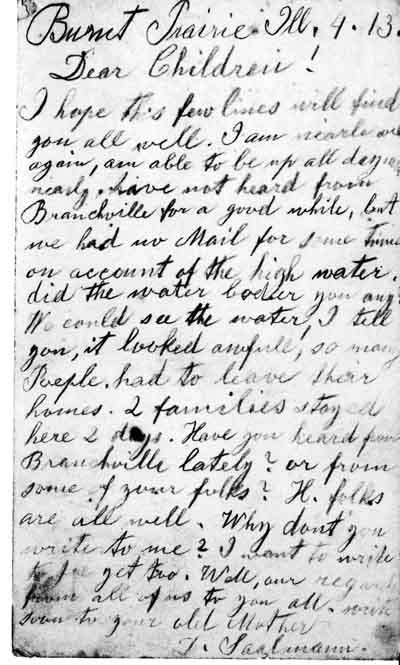 Burnt Prairie, IL, June 7 1913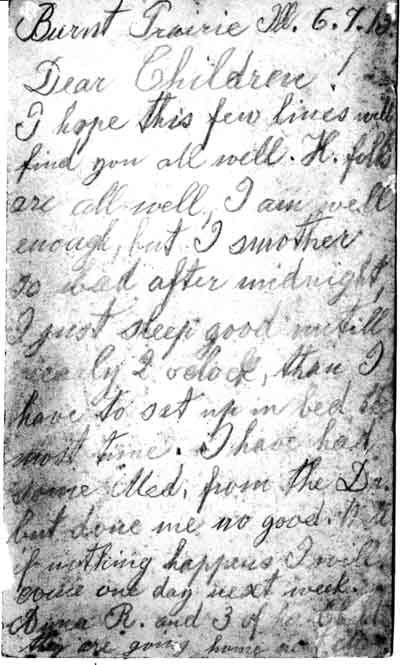 Sulphur, INd., Sept. 14, 1913