An introduction to the Esarey-Esrey and Rhoads-Esrey letters
A massive wave of westward migrating AngloAmerican settlers spanned the western three quarters of what is now the United States in about sixty years between 1790 and 1850 and then the next fifty years filled up the continent very rapidly. Because this migration was so directional in nature, many of the families involved dropped descendant branches along the way. In the case of John and Hester Clark Essery, who left Pennsylvania in the 1780s, this migration pattern by 1850 had spread their 9 children and 45 grandchildren across Kentucky, Indiana, Illinois, and Missouri, with a number of grandchildren by their youngest son (Jesse Esrey 1800-1855) moving to "Upper California" in the years just before the famous California Gold Rush.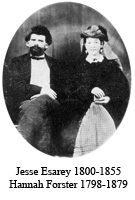 Another result of this tumbling migration was a divergence of the spellings of our name. Variations can be found all though the 1780 to 1860 period, but the three derivative spellings that persist among John and Hester Clark Essery's descendants (Esarey, Esrey, and Esry) had settled into use by 1875. As illustrated by the first of these two letters, John and Hester's son Jesse changed the way he spelled his own name from Esarey to Esrey between 1814 and 1832. His descendants then branched out from Missouri and California. Slightly later, some of the children of John and Hester Clark Essery's grandson, Isaiah Horton Esarey switched the spelling of their name to Esry. Many Esarey and Esry descendants originally located in Kentucky, Indiana, Illinois and Missouri.
The Essery surname is particularly common in Devon, England and it is unknown how many Essery lines migrated from there in the 18th century. Other spellings of the name independently also stabilized as Esrey in the Chester, Pennsylvania region, and as Essary in another branch that also moved south and west across the country. Likewise, there is an Esary line distributed across the United States. Although the exact relationship to these branches to John and Hester's branch is very probably historically close, the details have apparently been lost.
A sample of 19th century letters survives from three different sources. There are two early letters dated 1814 and 1832 between Jesse Esrey in Illinois and his brother Jonathon Davis Esarey (1783-1858) back in Indiana. Jesse, as the youngest son, had moved on west with his father John Essery a few years after they crossed from Kenucky to Southern Indiana, where most of the family settled. In subsequent years Jesse Esrey served in the Illinois legislature and then moved on west to Ray County, Missouri, where he remained the rest of his life.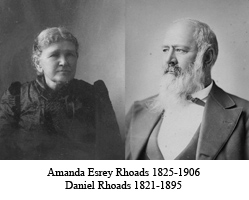 Another more extensive set of letters survives between Jesse and Hannah Esrey and their children Amanda ( and her husband, Daniel Rhoads), and Jonathan, John, and Justin Esrey,all of whom had moved on to California. The primary person preserving letters on the California end was Earl Rhoads of San Jose, CA. Earl was born in 1892 (son of John Rhoads and grandson of Daniel and Amanda Esrey Rhoads). In Missouri, Jesse Esrey's son Niles (1835-1910) also retained some of these letters.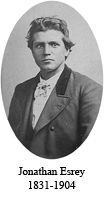 After 1900, some of the Esarey descendants in Perry County began to gather up Esarey family history, much of which was stored at the house of Jonathon Davis Esarey (the younger). In 1910, J. J. Esarey, a descendant of Jesse Esrey's older brother Jonathon Davis Esarey corresponded with Niles Esrey and they gathered up what they could find in the period leading up to the Esarey 1910 Centennial Reunion (which celebrated the 100th anniversary of when the family left Kentucky). The plans were to create a book on the history of the descendants of John and Hester Essery and their migrations. The Rhoads-Esrey letters were to be a part of it. Unfortunately, these hopes were dashed with the destruction of many of the gathered resources in a house fire in January 1914. Over the next 25 years or so, Logan Esarey (1873-1942), a professor of History at Indiana University, gathered information attempting to offset this loss and carry out the planned family history.
When Logan died these efforts continued by his daughter, who initially put out a draft of the research in 1949. Through the 1950s and 1960s, (Myra Esarey Evans) labored on various versions of the family history, finally copyrighting her completed volume of over 1000 pages in 1968 (Logan Esarey: His Ancestors & their Descendants ). In that volume (pp. 372-382L) Myra turned over the task of telling the story of the available Esarey-Esrey and Esrey-Rhoads letters to the capable hands of Mildred Esrey Reynolds (1894-? - granddaughter of Jesse Esrey by his son Niles) and Earl Rhoads. Mildred's history described the westward migration, illustrated with parts or all of more than 20 letters dating 1814 through 1910, while Earl Rhoads provided the historical outline and context of his grandparent's experience in California. Myra completed another set of Esarey volumes in 1974.
There the story rested until 2002 when Stephen P. Emanuels, of Lemoore, California edited a volume of letters entitled The Rhoads-Esrey letters: 1846-1873. Emanuels obtained copies of Rhoads-Esrey letters from descendants of Earl Rhoads, descendants of Jonathan Esrey (1831-1904), and other sources in California, amassing a sample of 19 letters. Only five of the letters in Emmanuels 2002 collection duplicate those found in Myra Esarey Evans' 1968 volume! The two sources together present us with 30 letters showing one family's part of this momentous history.
Historical overviews and annotations of some of these letters can be found in several sources and at various locations elsewhere on the internet. But because all of the known letters have never been presented as a body in one place, we wish to present transcriptions of all of them together here for the first time.
We do so with special thanks and appreciation to Stephen P. Emanuels and (via permissions by Patsy Van Kesteren and John Logan Van Kesteren) Myra Esarey Evans, the authors who previously published these documents.