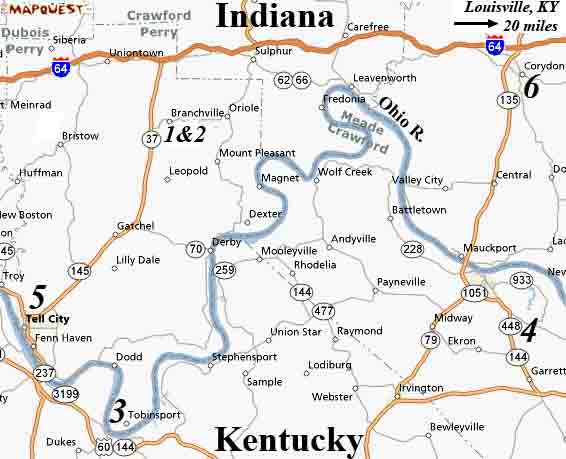 Important Places, Maps, and Directions
For Esarey descendants, the most important place in Perry County is BRANCHVILLE. This is where the Esarey family first settled in 1810. And for a hundred years, Branchville and Perry County was the location of most Esarey families. Because of spelling changes, ALL people with the name Esarey and most people with the name Esry can trace their family history back to this wonderful place in the Indiana hills. The Walker Cemetery at Branchville has many of the early Esarey ancestors, including Jonathon Davis Esarey, and Sarah Shaver. Sarah Shaver was Jonathon Davis Esarey's second wife and mother to most of his 13 children, and her father Jacob Shaver (another ancestor to ALL Esareys) is also buried at Walker Cemetery. Like Jonathon Davis Esarey's father, Jacob Shaver was a Revolutionary War veteran.
1&2: To get to Branchville, go four miles south of Exit 79 (Interstate 64) on Highway 37. Take a left turn onto Old Highway 37. Go less than a mile down the hill and then turn left on Branchville Road. Within a mile you'll be in Branchville!
The Oil Township Conservation Club (site of most of the Esarey Reunions over the last century) is on your left as you enter Branchville.
A little further on is the Methodist Church (the Catholic Church is in St. Croix near the intersection of Route 37 and Interstate 64).
To get to Walker Cemetery (resting place of many, many Esareys and their kin) continue a bit over a mile further from Branchville on Oriole Road. Look for the Walker Cemetery sign on the left/north side of the road.
3. Upper Cemetery Tobinsport Cemetery: Resting place of John Clark Esarey and Barbara Ewing and some of their descendants. Tobinsport is 30 miles south of Exit 79 (Interstate 64). The Upper Cemetery is above the town.
4. Doe Run Inn, Brandenburg, Kentucky: At Exit 105 (Interstate 64) take Highway 135 South for 17 miles, crossing Ohio River. After the Ohio River bridge, continue straight ahead a bit over three miles, curving around town on Bypass Road until it "tees" into Highway 448. Turn right. Proceed a bit over a mile to Brandenburg Station and bear right – staying on Highway 448. Proceed about one and a half miles and look for Doe Run Inn signs on left side. If you want to use an on-line map service the address is "500 Doe Run Hotel Road, Brandenburg, KY 40108."
5. Tell City, Indiana (site of the 2010 Esarey Bicentennial Celebration and Centennial Family Reunion : County Seat of Perry County, location of tourism, chamber of commerce, and library services.
6. Corydon, Indiana: Located Exit 105 twenty miles from downtown Louisville and just over half an hour from the Louisville International Airport, Corydon was the first capital of Indiana. Exit 105 has many hotels, stores, and services.